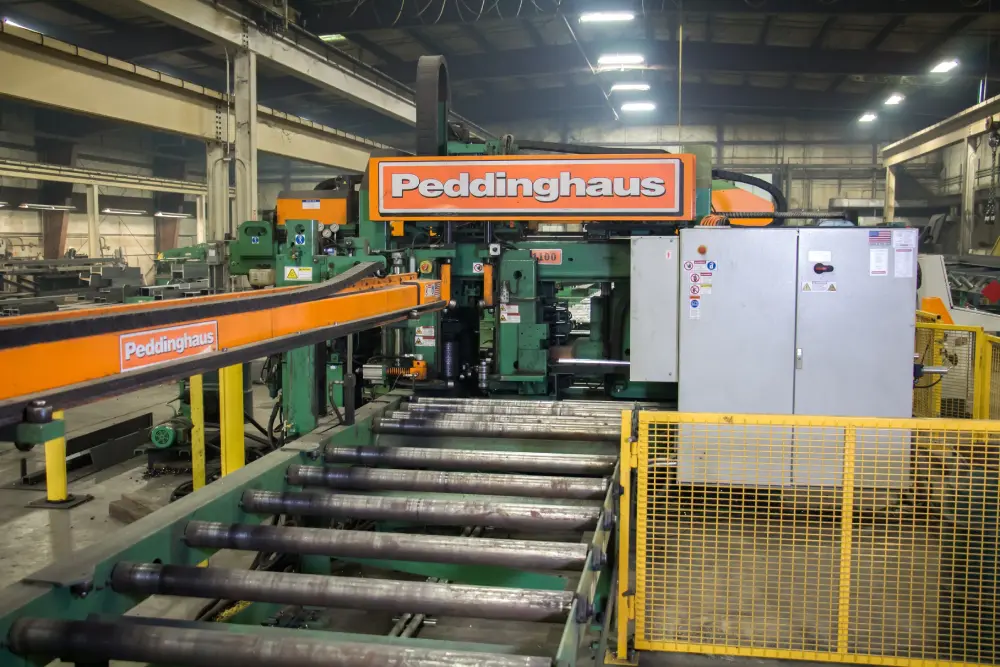 In 2015, Pilot Steel expanded our processing capabilities to the next level with the Peddinghaus Advantage-2 multi-process drill line. The Advantage-2 operations include drilling, milling, scribing, tapping and countersinking processes with capabilities up to 150 Ton per week. Utilizing 3 powerful Siemens 25 HP spindle motors, the Advantage-2 with automatic 5 station tool changing technology, ball screw spindle motion, and roller feed measuring system complete fast, accurate, and reliable structural steel processing for our customers connection design requirements. Integration of the Meba 1100DG automatic band saw in tandem with the Advantage-2 completes the multi-process system. The 1100DG band saw has cutting capabilities of up to 42-inch W shape and double miter cutting. Industrial ball screw feed system, and rapid advance blade system maintain quality and efficiency.
The newest addition to Pilot Steel's processing line up is the Peddinghaus Q643 angle line. Added in 2020 the Q643 is the standard for angle and flat stock processing with fabricators around the world. Double punch tooling on each independent head, roller feed technology, and processing capabilities up to L6x6x5/8 angle and 6 x 5/8 flat stock, the Q643 delivers the power and flexibility required to compete in today's demanding market.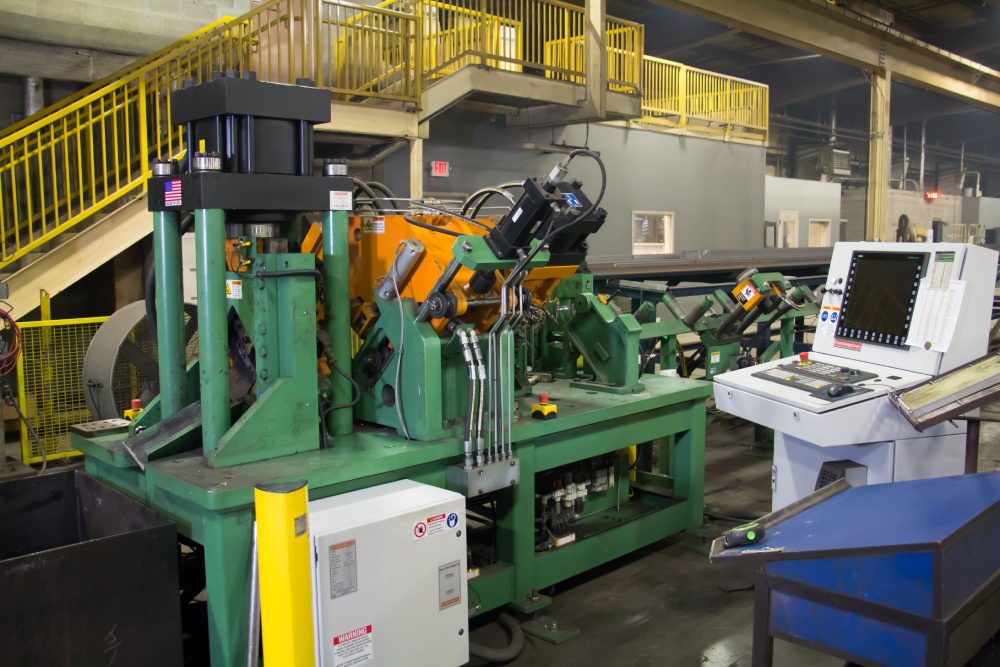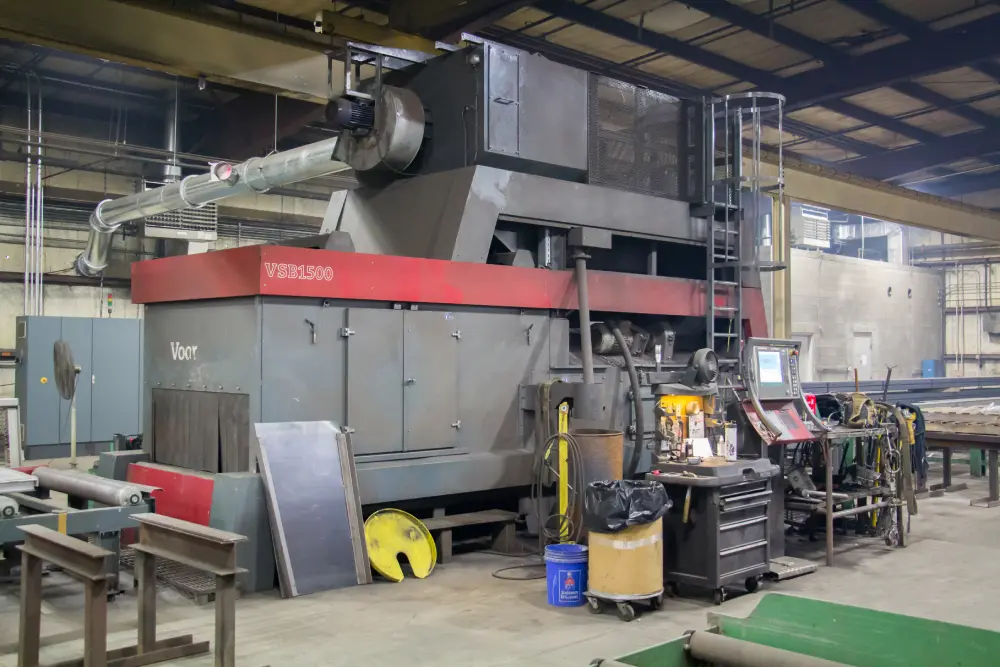 Voortman VSB1500 Shot Blaster, added in 2012, gave Pilot Steel the pre-processing advantage for our coatings department. The VSB1500 is capable of producing an SSPC-SP10/NACE No.2 surface preparation rating on most all structural steel shapes. Proper surface preparation is a key component in weld procedures and proper application of coatings. The VSB1500 provides the custom-tailored surface preparation required to fulfill our customer's needs.
In 2018 Pilot Steel recognized a growing need for expanding our handrail and pipe processing services and added the EMI 2100 series plasma pipe cutting machine. The 2100 series processes up to 6-inch standard wall steel pipe, and with Piece-Maker software, parts can be fully customized during processing. Miters, bend notching, and galvanizing vent holes are just a few of the custom features the 2100 series provides Pilot Steel for a more precise and better-looking finished product.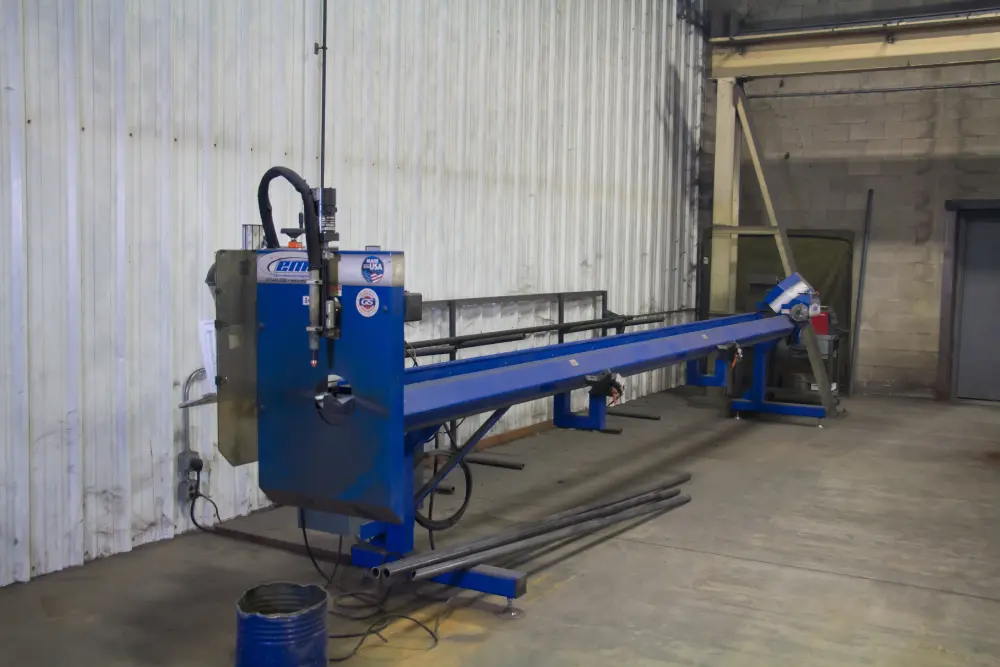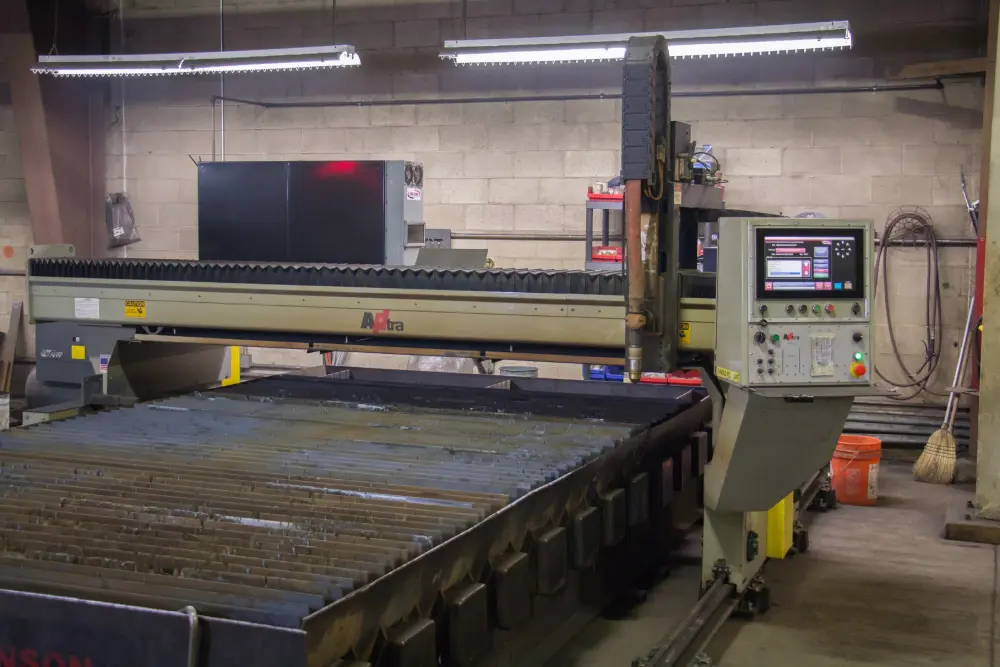 Quality in mind, Pilot Steel upgraded to an ALLtra Plasma System in 2020. The ALLtra PG-14 Gantry plasma powered by a Hyperthem 260XD gave Pilot Steel the cut quality the industry now requires. Hyperthem Pronest with true hole technology ensures every shape and hole is processed to the highest industry standard. Precision torch lifting station, brushless dual servo motors, and beam linear rails allow for top quality plasma cutting.
2010 brought a need for Pilot Steel to complete in-house special processing so the Bay-Lynx BC-900 cambering machine was chosen to complete this task. A press capacity of 330 tons and W shape max capacity of W36x150, the BC-900 offers the ability to camber a diverse variety of W shapes from small to large with repeatable precision.